Bloom's Taxonomy for Effective Learning
Bloom's Taxonomy for Effective Learning
Learning at the right level is critical to successful learning!
Are you an expert at everything? More than likely, your answer is no.
No matter what we know, none of us are experts in everything nor do we need to be. Depending on your goals, you may need only a minimal amount of knowledge in a field or you may need to understand the subject in detail.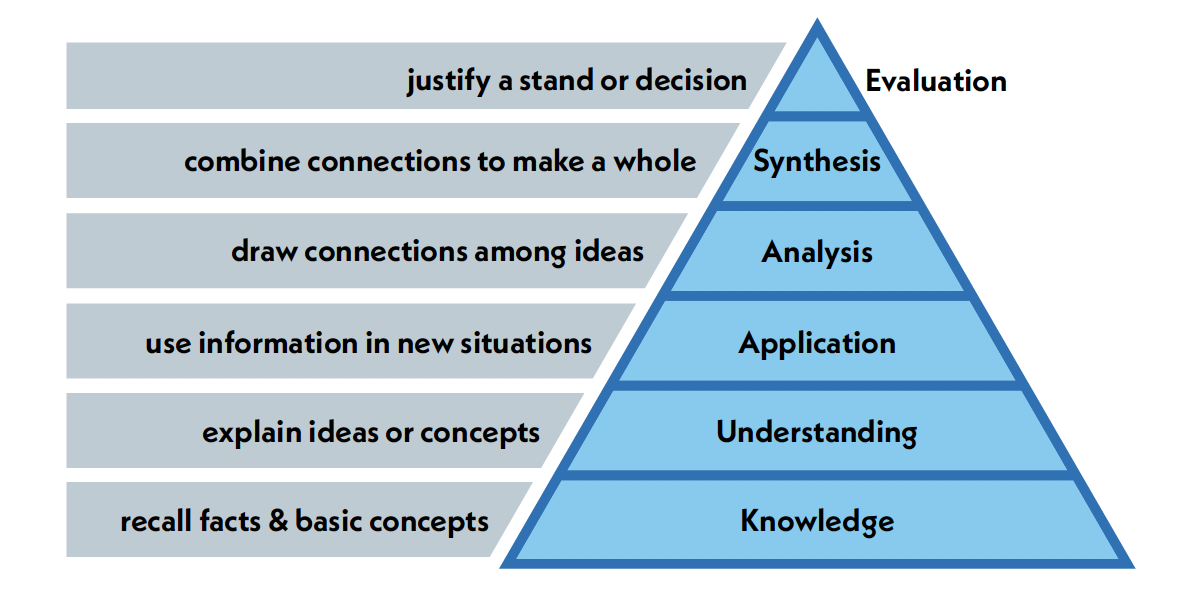 It is important to remember, when you begin to study in a new field you always start at the lowest level on the pyramid and move up.
To use your learning time more effectively, you must define the level of understanding you need to achieve before you start the learning process. Let's use two examples:
The University Core Course
You are enrolled in a required university core course that is outside your major field of study. Your professor uses language from the first two levels of the pyramid in your assignments and on your syllabus which leads you to believe that they are expecting you to develop a knowledge base and basic understanding of the course content. For example:
At the end of this course, you will be able to list the five major musical genre of the 20th Century. (Knowledge)
From the following list, identify those composers who were from the Baroque Period. (Understanding)
Arrange the following composers by century and musical period. (Knowledge)
You will be able to recognize the music of Bach, Bartók, Beethoven, Dvorak, Gabrieli, Hayden, and Charles Ives. (Understanding)
The language used in these examples is from the first two levels of Bloom's Taxonomy: Knowledge and Understanding. These are the building blocks of learning. Learning tools that might be appropriate in this course are those which would help you remember and understand content. This could include flash cards, memory lists, acronyms, mind maps, t-charts, matrixes, etc.
The Major Course
You are a sophomore and enrolled in a 3000-level course in your major. In their syllabus and exams, your professor uses language from the first through fifth levels of the pyramid:
This course is an introduction to electronic systems and signal processing. You will be able to recognize the internal components and operating systems of each type of system. (Knowledge)
After completing this course, students should be able to calculate the response of zero‐state and zero‐input systems. (Analysis)
Describe the properties of Z and Fourier Transforms. (Understanding)
Design and calculate the BW for filters, in the context of a larger system. (Analysis & Synthesis)
Choose the appropriate filter for a given system. (Application)
Obviously, the tools for remembering and understanding have a place here, but their use will be somewhat limited. This course now requires that you begin to apply, analyze and evaluate information based on past learning. Tools that might be helpful for these higher levels of learning include flash cards (technical terms), problem cards, self-created test banks, self-created lab or project notebooks, etc.
Study Strategies
There are different ways to study for each level of Bloom's Taxonomy. Each level is listed below with appropriate study strategies and key words to use for creating practice exam questions. The key words will also help you identify which levels of learning your professor expects form you in their class.
Knowledge
Definition
Exhibit memory of previously learned material by recalling facts, terms, basic concepts, and answers.
---
Study Strategies
Memorizing
Flashcards
Notecards
Grouped lists
Cornell Notes
---
Example Exam Questions
What/Who is...?
How would you describe...?
Why did...?
How would you show...?
---
Key Words
arrange
choose
define
describe
discover
duplicate
draw
find
identify
label
list
locate
memorize
name
observe
order
recall
recite
relate
reorganize
reproduce
retrieve
select
show
state
tell
write
Understanding
Definition
Demonstrate an understanding of facts and ideas by organizing, comparing, translating, interpreting, giving descriptions, and stating main ideas.
---
Study Strategies
Text notes
Text summaries
Recall lists
Questions to look up later
"What if?" questions
---
Example Exam Questions
What facts or ideas show...?
How would you compare...?
How would you classify...?
Can you explain what is happening?
---
Key Words
clarify
classify
compare
confirm
contrast
defend
demonstrate
describe
discuss
distinguish
explain
express
generalize
identify
illustrate
indicate
infer
interpret
locate
outline
match
paraphrase
predict
recognize
relate
rephrase
report
restate
review
select
show
summarize
translate
Application
Definition
Solve problems to new situations by applying acquired knowledge, facts, techniques, and rules in a different way.
---
Study Strategies
Concept maps
Question charts
Key word diagrams
Applying principles, laws, formulas, and theorems to different course material
---
Example Exam Questions
What would result if...?
What facts would you select to show...?
What approach would you use to...?
How would you use...?
---
Key Words
apply
build
choose
classify
collect
construct
demonstrate
dramatize
draw
illustrate
interpret
make
model
operate
organize
paint
plan
practice
prepare
produce
report
schedule
sketch
solve
use
utilize
write
Analysis
Definition
Examine and break information into parts by identifying motives or causes. Make inferences and find evidence to support generalizations.
---
Study Strategies
Mix & match info cards
Compare & contrast charts
Predicting exam questions that require judgement
---
Example Exam Questions
What inference can you make...?
What is the relationship between...?
What evidence can you find...?
What things justify...?
---
Key Words
analyze
appraise
calculate
categorize
compare
contrast
criticize
differentiate
dissect
distinguish
examine
experiment
explain
infer
integrate
investigate
outline
point out
question
select
separate
simplify
subdivide
survey
take apart
test
Synthesis
Definition
Compile information together in a different way by combining elements in a new pattern or proposing alternative solutions.
---
Study Strategies
Question charts
Key word diagrams
Grouped lists
---
Example Exam Questions
What could be changed to improve...?
How would you test...?
What way would you design...?
What outcome would you predict for...?
---
Key Words
adapt
add to
arrange
assemble
build
change
collect
combine & compare
compose
construct
create
design
develop
estimate
formulate
hypothesize
imagine
invent
improve
monitor
organize
plan
predict
prepare
propose
rearrange
role-play
set up
substitute
test
Evaluation
Definition
Present and defend opinions by making judgments about information, validity of ideas, or quality of work based on a set of criteria.
---
Study Strategies
Pros & cons lists
Compare & contract charts
Cause & effect charts
---
Example Exam Questions
How could you select...?
How could you prove...?
How would you prioritize...?
What information would you use to support...?
---
Key Words
agree
appraise
argue
assess
attach
choose
compare
consider
criticize
critique
debate
decide
defend
determine
disprove
estimate
evaluate
explain
influence
judge
justify
measure
perceive
rate
recommend
select
solve
state
support
value
weigh
Why Bloom's?
The benefit of Bloom's Taxonomy is that it helps you identify where you are and where your professor expects you to be on the pyramid for a particular class or subject. Once you know this, you can develop learning strategies that are most appropriate, effective, and efficient for your class. Start where you are in terms of knowledge in a subject and to adjust your learning strategies as you move up the pyramid to more complex and demanding learning.
---
Works Consulted
Anderson, L. W. & Krathwohl, D. R. (Eds.) 2001. A Taxonomy for Learning, Teaching, and Assessing: A Revision of Bloom's Taxonomy of Educational Objectives. New York: Addison Wesley Longman
Bloom, B. S. (Ed.), Engelhart, M. D., Furst, E. J., Hill, W. H., & Krathwohl, D. R. 1956. Taxonomy of Educational Objectives: Handbook I: Cognitive Domain. New York: David McKay